Hyde Machinery (Maosheng Group)
- Seed processing plant: 1~15 t/h
- Flour mill plant: 40~1000 t/d
- Manufacturer since 1976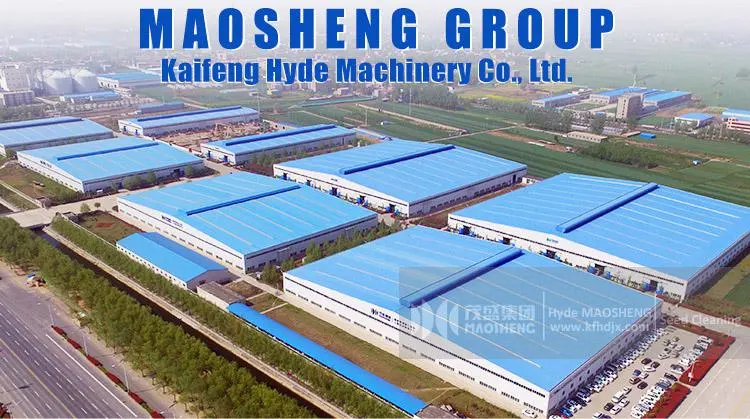 High, Medium, Low Pressure Centrifugal Fan
Classification according to pressure level:
Low pressure centrifugal fan: 0-1000Pa (0-100mmH2O)
Medium pressure centrifugal fan: 1000-3000Pa (100-300mmH2O)
High pressure centrifugal fan: 3000-15000Pa (300-1500mmH2O)
Our T4-72 low pressure and medium pressure fans, and TY-GF, 6-30 high pressure fans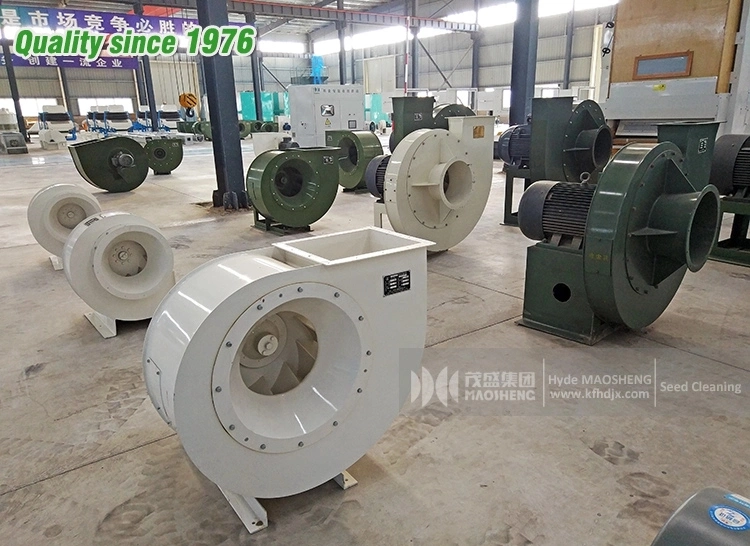 Assembly Workshop of Centrifugal Fan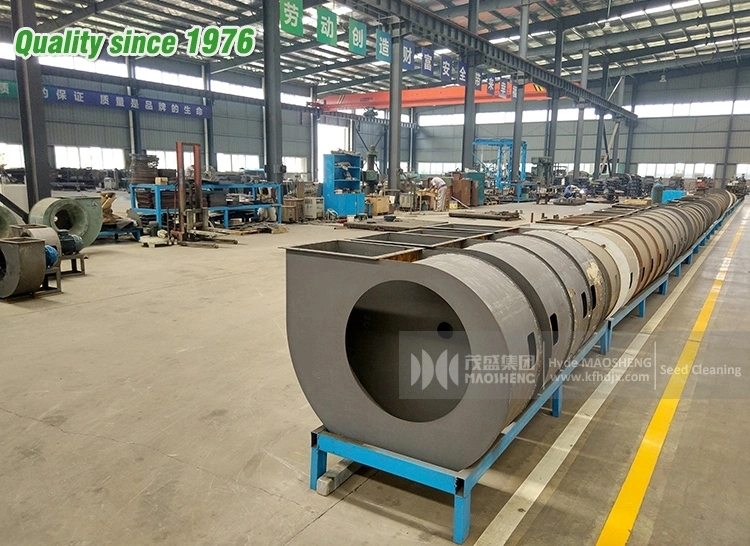 Features of Centrifugal Fan
T4-72 series low and medium pressure fans are high efficient, widely used for ventilation and dust removal, grain drying, cooling and cleaning, gravity de-stoner suction, and flour purifier suction in grain processing plants.
1. High efficiency, low power consumption.
Optimized design for all components, flat performance curve, max efficiency up to 91%.
2. Stable running, low noise.
Backward large-circle-arc blades with good aerodynamic performance.
Impellers are all calibrated for precise static and dynamic balance.
Fan blades are laser-cut to ensure accurate shape, whole body robust, stable, safe and reliable.
Lower noise compared with peers.
Environmentally friendly.
3. Robust and durable structure, easy maintenance.
Maintenance window available for easy clean.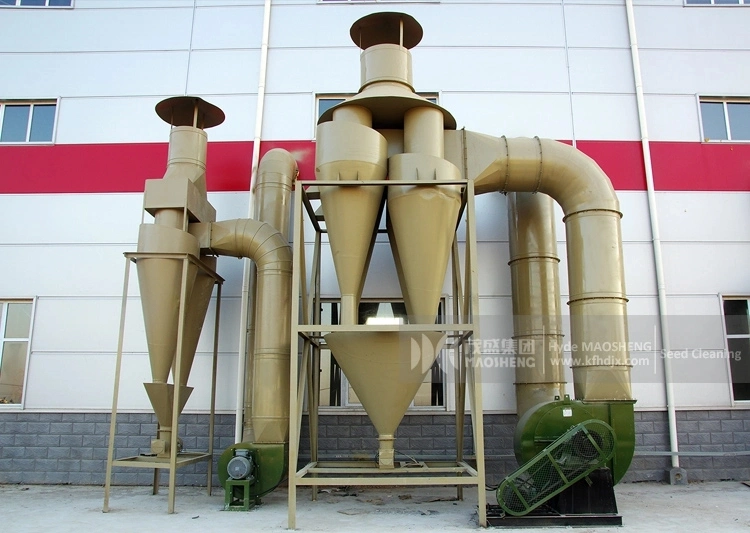 TY and 6-30 high pressure centrifugal fans are widely used for high pressure forced ventilation and materials pneumatic conveying.
Features: large capacity(air volume), high pressure, relatively flat performance curve, applicable for high-building multi-pipe pneumatic conveying air pipes.
Customize Service of Dust Removal Fans Blowers
Direction of Inlet, Outlet can be customized to 0, 45, 90, 135, 180, 225, 270, 315 degree according to site situation.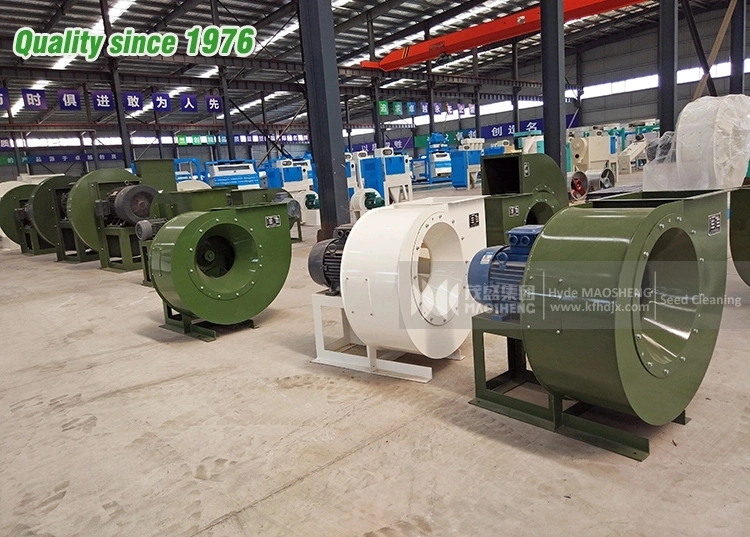 Technical Specification of Centrifugal Fan
Model

Air Volume

(m3/h)

Full Pressure

(mmH2O)

Power

(kW)

Speed

(r/min)

6-30-6#

7667-3499

373-642

11-18.5

2900-2500

6-30-7#

12385-8607

342-904

11-37

2900-2500

9-19-5A

3488-1610

518-581

7.5-11

2900

9-19-6.3A

6078-3220

831-933

18.5-30

2900

TY-GF7.7-1.5

14620-7840

1018-1064

45

2970

TY-GF8.2-2

19113-8916

1223-1285

75

2970

TY-GF8.4-2

20813-11755

1115-1238

75

2970

T4-72-4A

7160-3800

112-208

5.5

2900

T4-72-4.5A

10700-5820

167-264

7.5

2900

T4-72-5A

14710-8010

210-340

11

2900

T4-72-6A

22180-9828

215-410

22

2900

T4-72-6C

4000-20426

30-281

1.5-15

900-2240

T4-72-7C

6261-24038

38-213

3-18.5

900-1800

T4-72-8C

9631-36234

61-325

4-30

900-1800
Various dust cleaning equipment such as dust blower, cyclone, air aspiration channel, air aspirator, dust fliters: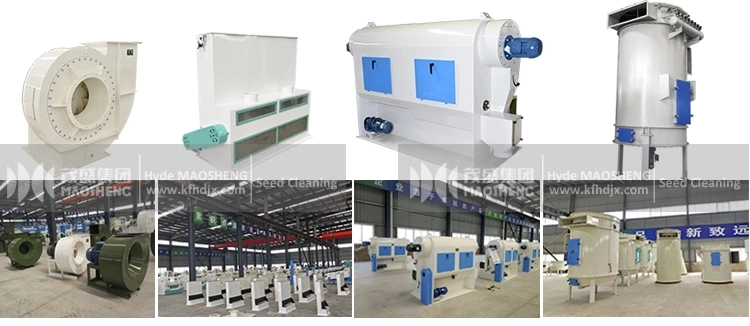 Dust Blower Dust Aspiration Channel Air-recycling Aspirator Dust Filter
Kaifeng Hyde Machinery is a branch company of Henan Maosheng Group, which is formerly known as Kaifeng 2nd Grain and Oil Machinery and has specialized in engineering and equipment manufacturing for grain handling, storage, flour milling and seed processing since 1976.
With 40 years' growth, Maosheng Group company has become one of CHINA TOP 10 Grain Processing Machinery Manufacturer. In addition, Maosheng is the host of CHINA National Grain Processing Technology Research Center.
Kaifeng Hyde Machinery, separated in 2000 as a branch company, mainly manufactures a full range of advanced grain and seed processing machines.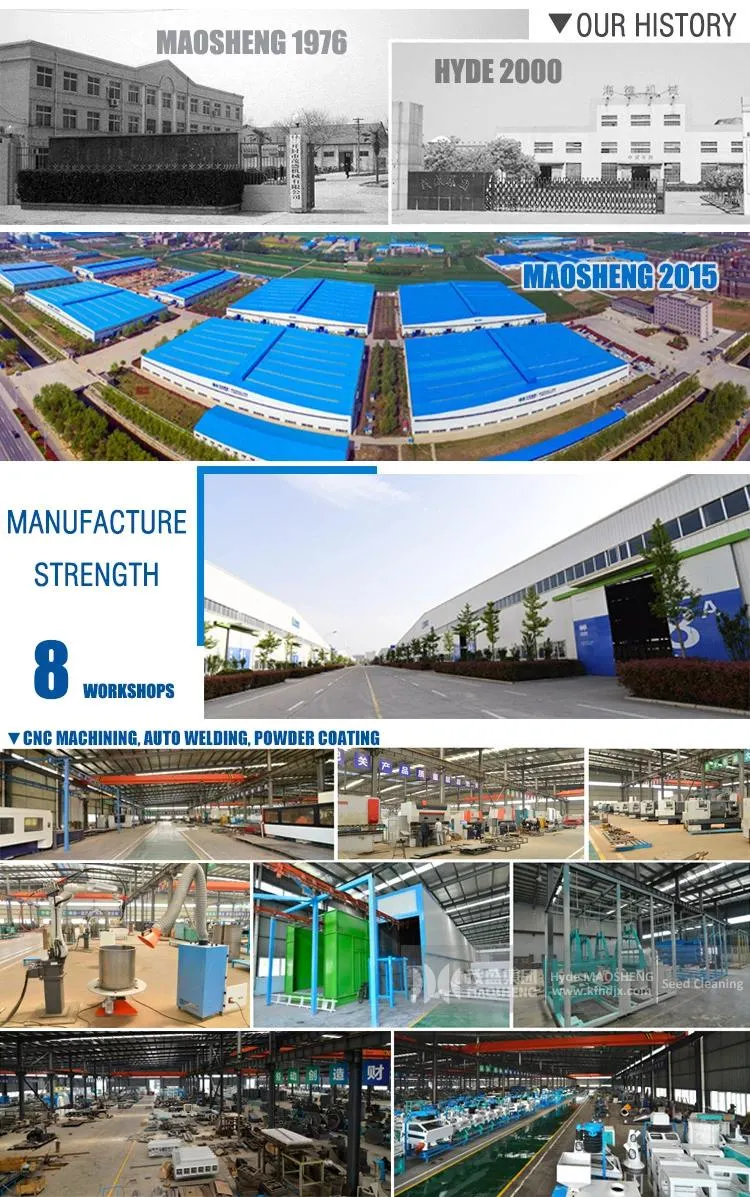 Cooperation of Maosheng Group Hyde Machinery
To better serve our clients, Maosheng Group not only imports high-end manufacturing facility to improve product quality and manufacturing productivity, but also keeps on looking for international communication and cooperation. We successfully signed agreement with Italy for machine development in 2009 and established joint venture with WESTRUP Denmark in 2013 and NoroGard Sweden in 2016.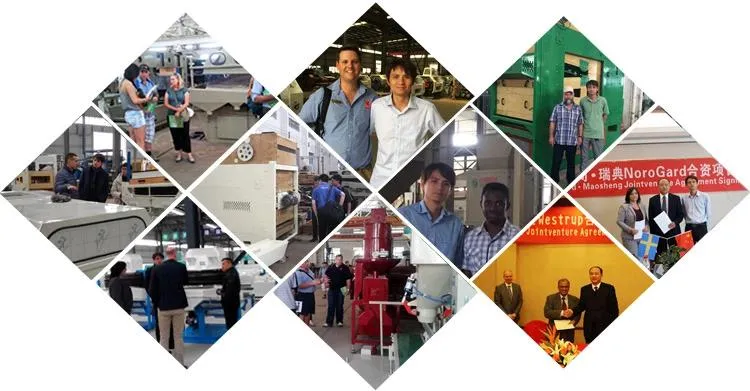 Our partners and clients in China: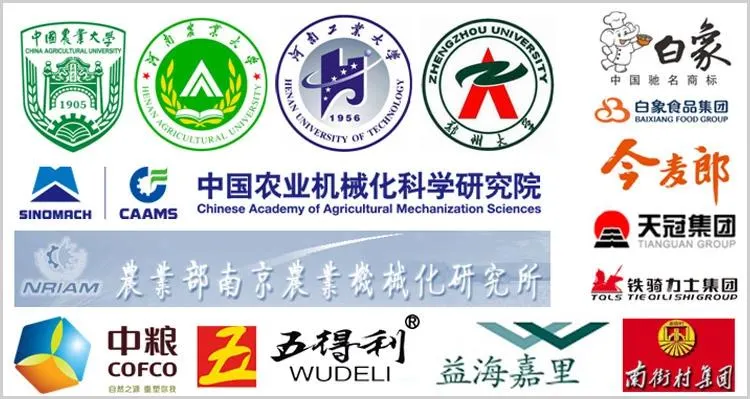 Honors of Maosheng Group Hyde Machinery
With decades of our effort, our machines have obtained China Top 10, China Famous Brand and enjoyed high reputation in domestic and oversea markets.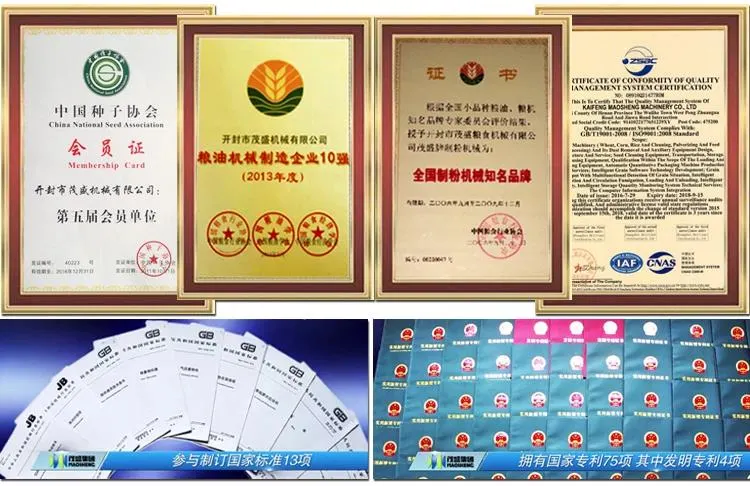 Member of 13 China national standards DRAFTER in grain industry. 75 patents including 4 inventions (till 2017).
Why choose us?
40 YEARS manufacturing experience since 1976.

CHINA TOP 10 Grain Processing Machinery Manufacturing Company.

Member of 13 China national standards DRAFTER in grain processing industry.

75 PATENTED technologies and products.

600,000 square meter production area.

Over 100 experienced engineers, research staff and technicians.

State-of-the-art facilities. Advanced imported CNC machines for function parts.

Full range of service, from single machine to turnkey systems in grain and flour industry.

Machinery and equipment quality tested by domestic and global market, rich installation and trouble-shooting experience.
State Leaders Visits to Maosheng Group, confirming our effort in grain processing industry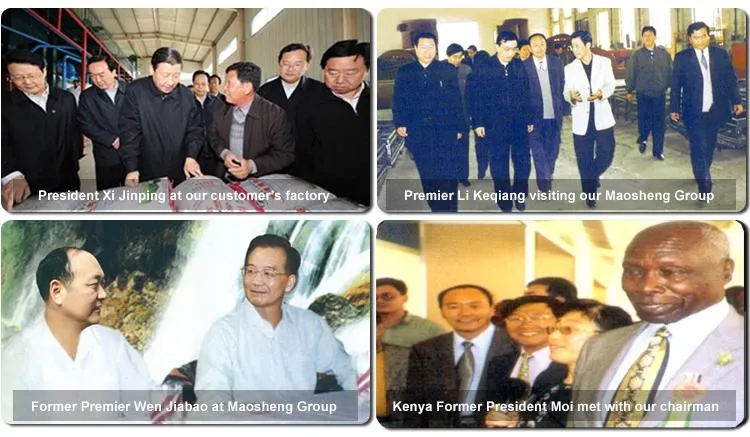 Pre-sales Service
1. Technical Consulting Service
Our wide product range enables us to provide most flexible, efficient and reliable equipment configurations or complete solutions for customers according to different requests and budgets.
2. Company and Production Line Visit
Before placing orders, customers are warmly welcome to visit Hyde and our facility. We can also arrange the visit to our existing customers to learn the operation condition of our machines and complete plant.
In-sales Service
1. Reliable delivery time.
2. Strict quality control by in-production 100% check and test.
3. User manual and spare parts provided for free.
After-sales Service
1. Fast technical guidance for construction, installation and commissioning.
2. Necessary training for daily maintenance on site.
3. 12 months warranty.
4. Lifelong regular technical service.
5. Timely solutions to problems.
FAQ
Q: What do you need to know for fast communication and quotation?
A: It would be highly appreciated if you can provide details of your required model, speed, outlet angle, rotating direction, and other working conditions.
Q: Can you make the machines as per our special requirement?
A: Yes, OEM/ODM service available.
Q: What about the lead time?
A: 5~15 workdays, depending on the type of machine and parts availability.
Q: What is your payment terms?
A: T/T, L/C, Western Union, Cash accepted.
30% deposit with purchase order, 70% balance paid before shipment.
Q: How can you guarantee the quality?
A: Quality control by incoming material inspection, 100% in-production check and random check after packaging.
Spare parts and technical solutions provided timely for machine failure.
Q: How do we visit your company?
A: Hyde Machinery is located in Kaifeng City, Henan Province, China.
1 hour drive from nearest Zhengzhou airport.
Contact us
Welcome your enquiry and visit about our Centrifugal Air Blowers!
Check below information, or just fill in the form and click "Send".