Motexo Vent--
CENTRIFUGAL BLOWER FAN
APPLICATIONS

Extract or intake of large airflow with high pressure for shopping centers, hospitals, airports,
public places.
GENERAL SPECIFICATIONS

MTX-GTD series Box type centrifugal fan which is installed the fan in the box.
The cabinet panel is generally made of a single-layer steel plate, or a three-layer foam board,
or a sound-absorbing cotton board. The box body of the high-end box fan is made of
a five-layer sound insulation board. This series is a box-type fan with one machine and
two uses (fire nuclear ventilation). The fan is used when the temperature of the flue gas reaches 280 ° C,
and can transport gas without large corrosive gas and without acid (alkali) nuclear dust particle
content of up to 150mg / m3.
These fans are produced for customers special requests. If the customer has other requirements
for pressure and air volume what is not included in the following list, please contact our
technicians to design and select the appropriate fan.
It can be produced between Ø200 mm - Ø1600mm with requested diameter and variable blade angels.

Air Volume is up to 160000m³/h

Static Pressure is up to 2600Pa.
CONSTRUCTION (FAN CASING)

Box fan provides a variety of installation types for users to choose. The user can choose the fan according to the direction of the design air inlet and outlet; the drive installation position can be selected according to the designed space structure. Structural features: The air volume of the centrifugal air-conditioning fan is 1000 ~ 160,000m3 / h, the full pressure is 200-2600Pa, and the internal control dynamic balancing accuracy of the whole fan reaches the international standard DIN / ISO 1940 and AMCA204-05 G2.5 level. The panel of the cabinet is made of 30% perforated sound-absorbing orifice plate, 30mm fire-resistant and corrosion-resistant glass fiber cotton, and polyurethane sandwich panel with a density of 50kg / m3. The thickness reaches 40mm, and the noise reduction and sound insulation effect is more than 20dB. The panel is made of a non-galvanized galvanized steel sheet that complies with European ROHS standards. The zinc layer is up to 180g / m2, which is 60g / m2 more than ordinary steel plates. The plate has strong corrosion resistance, and the salt spray test reaches more than 500h. The processing process is covered with a film to prevent scratches that may occur during processing.
DRIVEN TYPE
Direct driven,belt-driven

OPTIONAL ACCESSORIES
Shock absorber, Spring shock absorber
filter(Activated carbon filter,Low efficiency / medium efficiency / high efficiency filter)

OUTLET ANGLE
You can check below to select an outlet angle that meets your demands.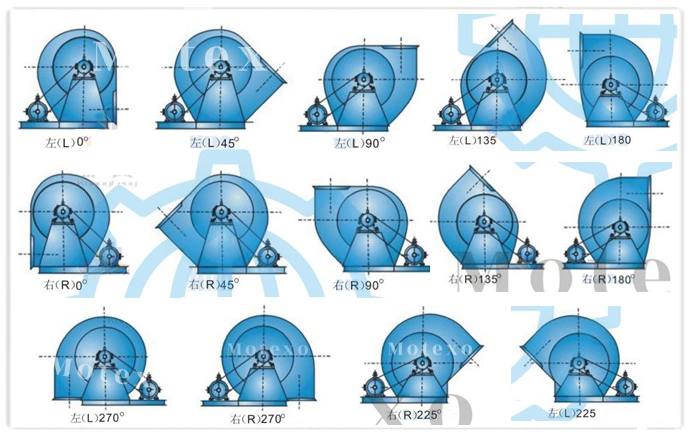 View more details and technical sheet of our centrifugal fan blower,kindly please contact us to get the latest catalog.


Production and Package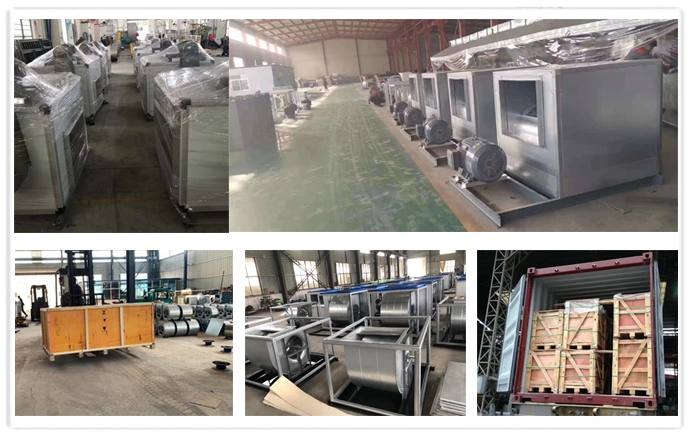 Customer Cases---Centrifugal Fan Environmental Project Worldwide
We've been working with many project in Uganda,Indonesia, Myanmar,Peru,Pakistan and
other countries for sewage treatment project,Steel plant boiler drafting project,
Hydro-Electric Power Plant and tunnel&mining project.
We understand the harsh environments in which fans are used.
Motexo fans will meet and exceed the demands of your industry engineering,
infrastructure project, mining/tunnel project, and other environmental projects.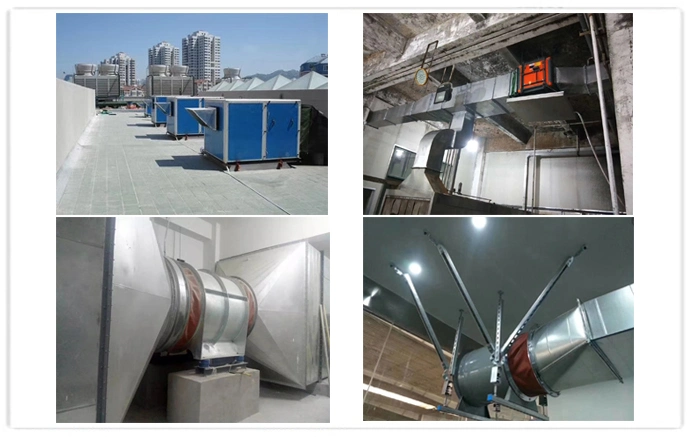 Production Workshop

Motexo Fan manufacture 300 series and more than 1,400 kinds of industrial fans.
All include heavy-duty designs for industrial applications.
We have individual workshop for roots blower,centrifugal fans&blowers,
maintaining,axial fan,welding and assembling.

For more info please direct check our website--motexco.en.made-in-china.com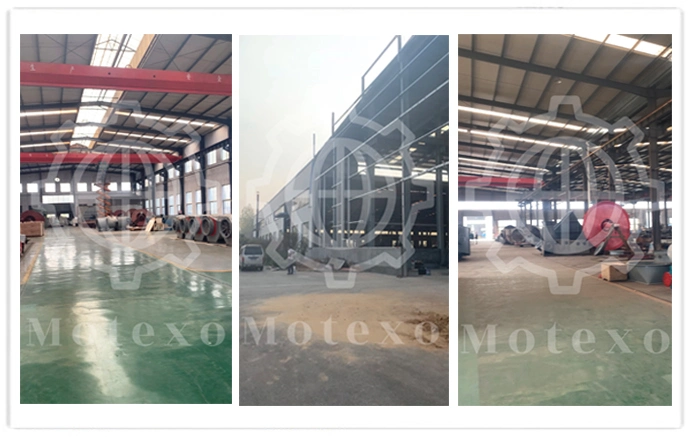 Production&Testing Equipment

Not only we can produce a large batch of small fans, but we also have the processing capability to produce heavy-duty blowers like above 3.5m high. We adopt the best technology in all aspects of industrial blower,
such as shot blasting, sandblasting, all the paint process, welding process, etc.
Stoving varnish looks brighter than water paint( ordinary painting color). It has more than 200 sets of fine, large and rare processing equipment, and has a high-tech resin sand casting production line.

Our equipment is generally used for power plants, environmental protection plants, coal plants, and so on.
It requires high technology and workmanship.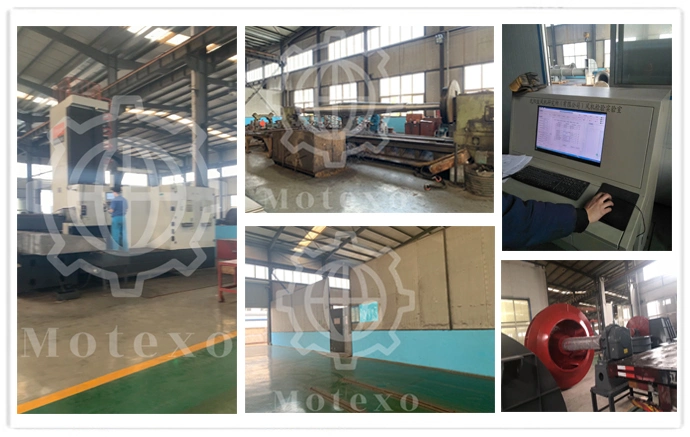 Centrifugal Fan Blower Equipped with Frequency Control Panel/Soft Starter