AC Backward Curved Fan Motor Impeller Fan Centrifugal Fan
We take pride that our motors and blowers are of in-house design and indigenous technology. Be it the design, the raw material or the production process, a quality assurance system is in place to ensure that our products satisfy all our quality parameters. As part of our quality policy, we have equipped ourselves with testing facilities.
R&D being our forte, we challenge ourselves and try innovative approaches in designing new products. Our products stand testimony to our sustained efforts in achieving perfection. Being thorough professionals attuned to perfection, technology enables us to provide prompt service to our customers spread through the country and abroad. Our constant endeavor is to evolve, in bringing out products that are improved in all aspects.
At Changpeng Motor, we diagnosed the reasons for such failures and worked on overcoming them. With our technical approach, backed by the wide knowledge and well-rounded experience of promoter, we succeeded in our efforts. The outer rotor induction motor we introduced was not only efficient in cooling the extruder barrel, but also ideal for all conditions.

The compact design, reduced cost, efficiency in cooling panel and reduced power consumption gave our blowers an edge over others. This in turn proved advantageous to our clients in terms of compactness, cost and efficiency of their end products.
Our initial success was not by chance but by channelizing our technical and technological expertise appropriately. Our continuing success streak and sustained patronage of clients since inception stand proof for our dedication.
Our products include air conditioning motors, forward and backward curved single and double suction blowers, besides axial fans and motors for special application requirements .
Model

Voltage

Frequency

Current

Power

RPM

Air Volume

Static Pressure

Noise

N.W.

V

Hz

A

w

m³/h

Pa

dB

KG

CP-190-2

230V

50Hz

0.3

60

2450

530

280

55

2.5

CP-190-4

0.2

24

1350

280

60

40

2.5

Model

Voltage

Frequency

Current

Power

RPM

Air Volume

Static Pressure

Noise

N.W.

V

Hz

A

w

m³/h

Pa

dB

KG

CP-225-2

230V

50Hz

0.6

130

2500

972

460

55

3

CP-225-4

0.2

24

1400

582

110

48

3

Model

Voltage

Frequency

Current

Power

RPM

Air Volume

Static Pressure

Noise

N.W.

V

Hz

A

w

m³/h

Pa

dB

KG

CP-250-2

230V

50Hz

0.8

175

2500

1230

540

68

3.5

CP-250-4

0.2

40

1400

780

130

55

3.5

Model

Voltage

Frequency

Current

Power

RPM

Air Volume

Static Pressure

Noise

N.W.

V

Hz

A

w

m³/h

Pa

dB

KG

CP-280-2

230V

50Hz

1.1

250

2500

1698

670

70

3.8

CP-280-4

0.4

85

1400

1200

170

55

3.8
Characteristics:
♦ Impeller passed high standard dynamic balancing, ensuring stable running of fan.
♦ Running test and vibration value test for fans after finishing manufacturing, ensuring running reliably.
♦ Impeller of annealing treatment, completely eliminating structure of internal stress when welding, ensuring impeller appearance won't occur creepage and flaw.
♦ The welding line of impeller and main shaft passed ultrasonic flaw detection, ensuring no defect of welding and materials, guarantee strength.
♦ Can flexibly adjust fan's volume and pressure in running by air damper. Can also adjust fan's pressure and volume by changing the fan speed via matching variable frequency motor.
♦ Regarding to material of impeller and main shaft, we will choose high strength carbon steel, low alloyed steel, High temperature resistant alloy steel, High temperature resistant high strength alloy steel according to different medium temperature and running speed, ensuring the impeller and main shaft keeping reliable strength in high temperature.
♦ Using liquid lubricating oil, no need to open bearing housing when changing or filling lubricating oil. Easy to observe the lubricating oil's quality and stock through inspection window on the bearing housing body.
♦ Bearing housing adopt labyrinth type mechanical seal, unique design of spill prevention of inner, venthole design on top, commissure coated with sealing grease, completely eliminating bearing housing oil leak.
♦ The motor load can be automatically reduced when airflow resistance is increasing, to prevent motor from destroying.
Applications for Centrifugal Blower Fan:
♦ Industrial boiler blowing air, Industrial boiler inducing air, Industrial boiler waste gas dust collecting.
♦ Industrial kilns
♦ Ventilating
♦ Cooling and heat dissipation
♦ Air purification and industrial waste gas treatment, Industrial dust collector.
♦ Air purification of hazardous working environment (Paper making production line, Electrolytic aluminium production line, Textile mill).
♦ Metal smelting
♦ Gas and materials delivery
♦ Other
Recovery of industrial waste gas, Supply air and drying of food and drug production line.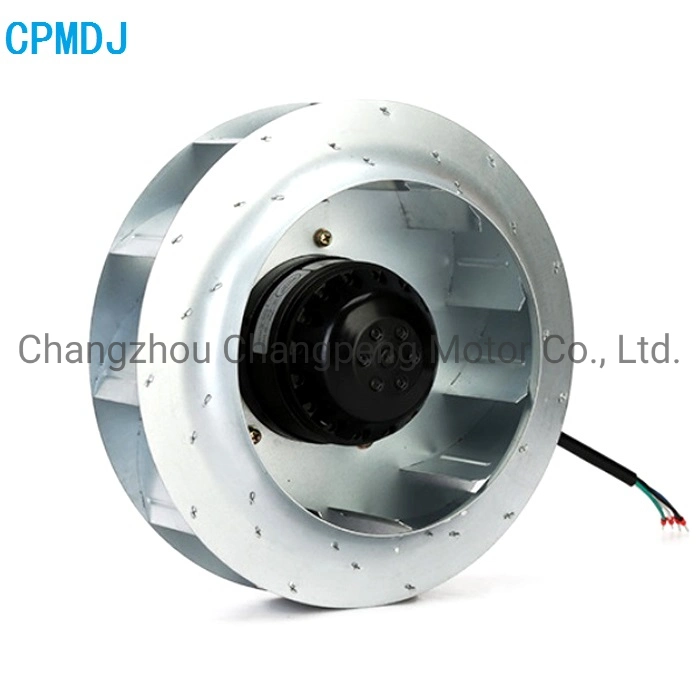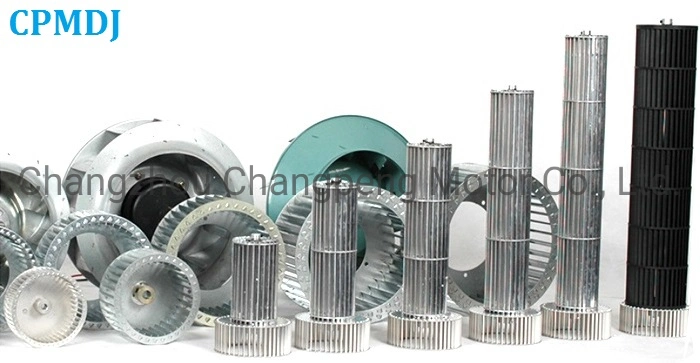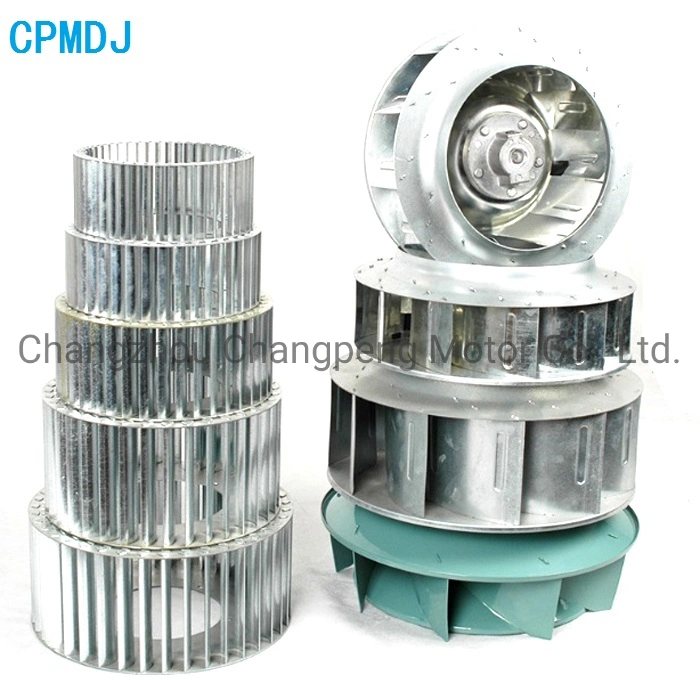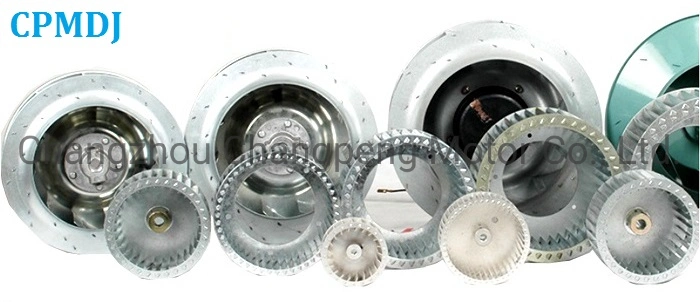 Our Service
Online service: we can talk on Trade manger , Email, Phone, Wechat and so on.
Customer service: we accept OEM,with your own design, brand and label.
Sample service:we will send samples for free, if you decide to buy our product
Presale service: We will try our best to answer you every question in time.
In-sale service: We will produce the goods with high quality; and pack carefully. We will also keep contact with you when the goods are ready for delivery until it reached safely.
After-sale service:If you have any question, please contact us at any time.
We provide one-stop manufacturing service with high quality guarantee. It specializes in the researching, designing, developing, and manufacturing of AC motors and DC motors. The main products are
environmentally friendly air conditioning motor,
cooling fan motor,
indoor and outdoor air conditioner
motor,
water air conditioner
motor,
fan coil motor, induction fan motor, axial fan motor, heat-pump water heater motor, moveable air cooler motor, brushless DC motor, air purification equipment motor, centrifugal fan motor, external rotor fan motor and other customized motors based on customer's requirements. With advanced testing equipment, production equipment and experienced independent R&D team, Changzhou Changpeng Motor Co., Ltd believes in the concept of "quality as root, sincerity as basis, virtue as first, faith as living" for our management idea,and we put forward "integrity wins world, brand decides fate" for our development slogan.
We can meet all kinds of clients' needs in order to harmoniously develop our company and clients.
About us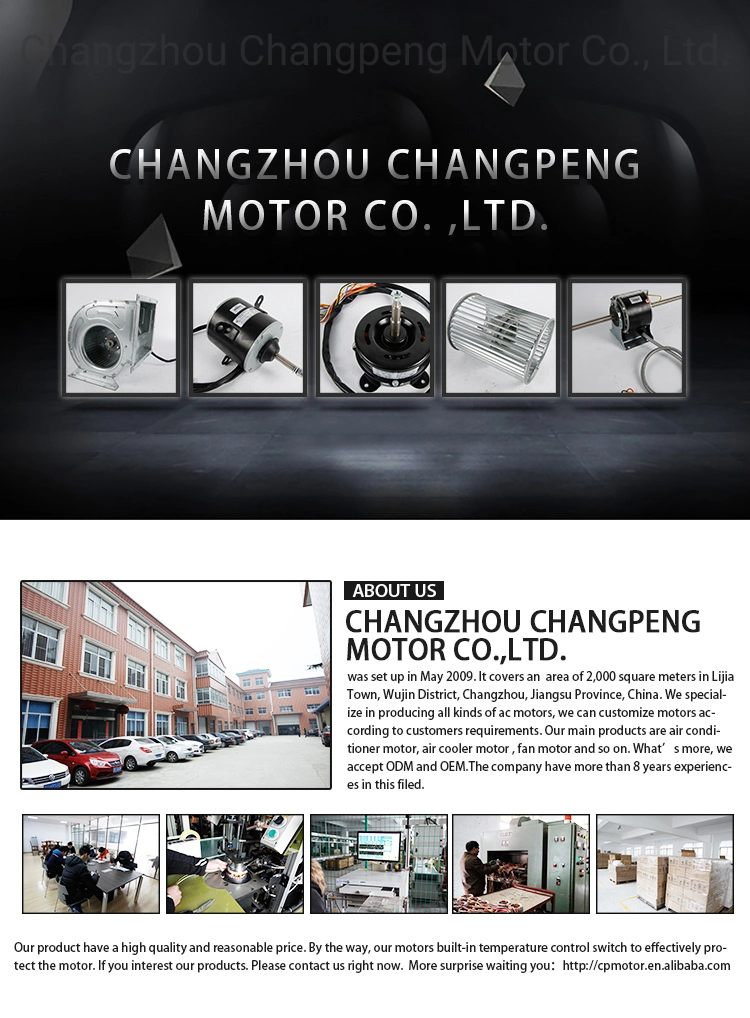 Our customer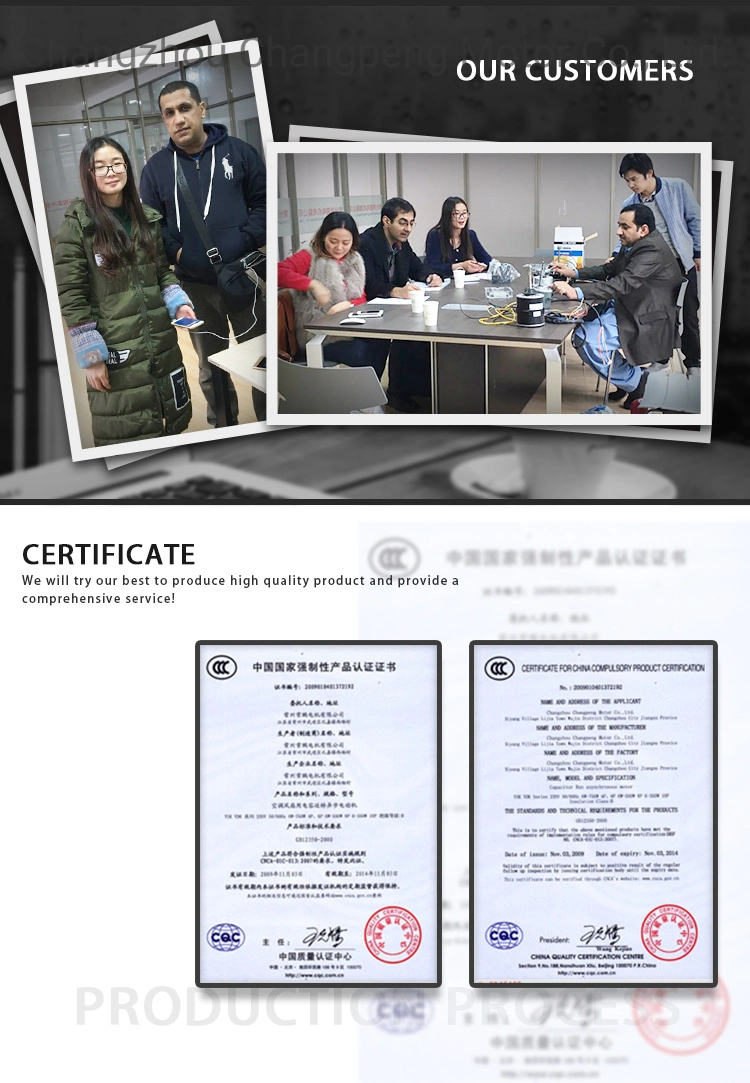 Notes:
The above mentioned specification is representative specification,The specification can also be designed and manufactured
according to customers requirement.
The products of 100-120V,200-240V,60Hz can also be supplied as requested.
We will not give special notice on changes,please contact our technical department for further information.

Packing and Delivery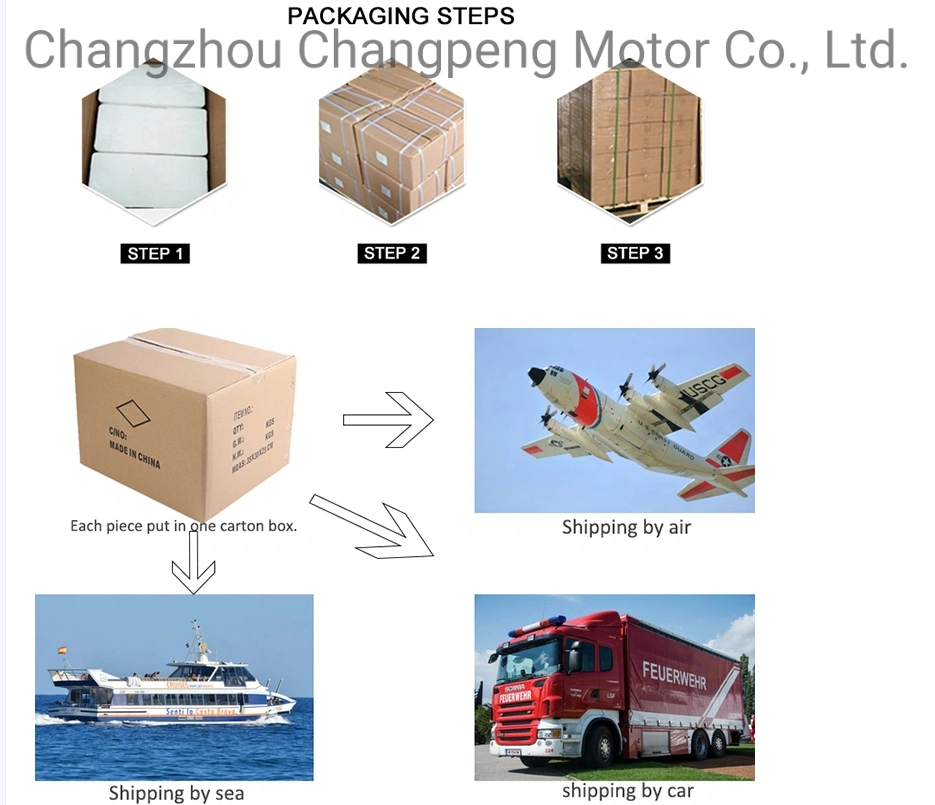 1.FedEX / DHL / UPS / TNT for samples,Door to door service;
2.By sea for batch goods;
3.Customs specifying freight forwarders or negotiable shipping methods;
4.Delivery Time:20-25 Days for samples;30-35 Days for batch goods;
5.Payment Terms:T/T,L/C at sight,D/P etc.
FAQ